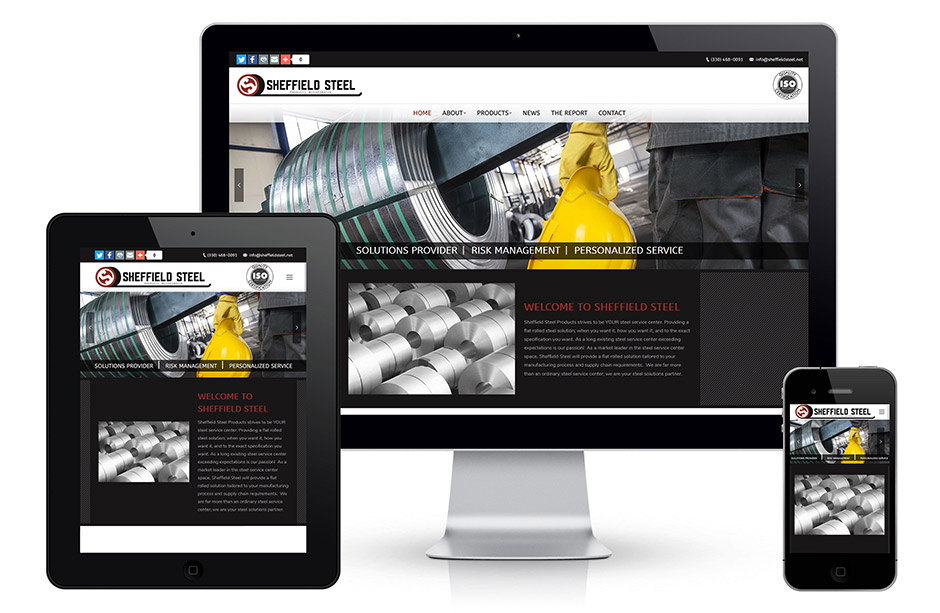 Sheffield Steel is a steel solutions provider located in Macedonia, Ohio. After searching for the right Pittsburgh WordPress Developers, they contacted us to redesign their website with a clean and professional industrial look that would appeal to their business to business customers. We learned a great deal about the steel industry while working with the business executive team at Sheffield Steel. They are truly unique in their industry for the fact that they not only supply rolled steel and aluminum, they know their product and industry inside and out. They can develop solutions for complex problems in the steel industry. They know exactly what type of product is best for your application. Sheffield Steel has been in business for over 60 years and has 200 combined years of manufacturing experience.
While working with them during the build, we heard stories from one of the executives about they were a child and how they used to go to the steel mills with their grandfather. This is generations of experience and memories. The passion the knowledge they hold for the steel industry is amazing. We used the stories and knowledge they shared as inspiration to building the new website. We found ourselves captivated by the new found beauty of the steel mills, different types of steel rolls and what their products and services mean to the rest of us in our every day lives. It was an honor for us to work with their team. We look forward to the success and growth of their business for many years to come. If you are looking for comprehensive steel market data and analysis, be sure to check out THE REPORT. The information is updated weekly.
Here are some of the main features of this Macedonia, Ohio website design project:
Extended Graphic Design that Utilizes the Latest in Design
Responsive Mobile Friendly Website Design (Tablet, Mobile, PC)
Fully Integrated Search Engine Optimization (SEO) / Analytics / Monitoring
Weekly Reporting Data
Social Sharing
Fast Website Load Times
Website Security and Monitoring
If you are looking for a local Macedonia website design company to build your business to business website, contact Pennsylvania Web Technologies.