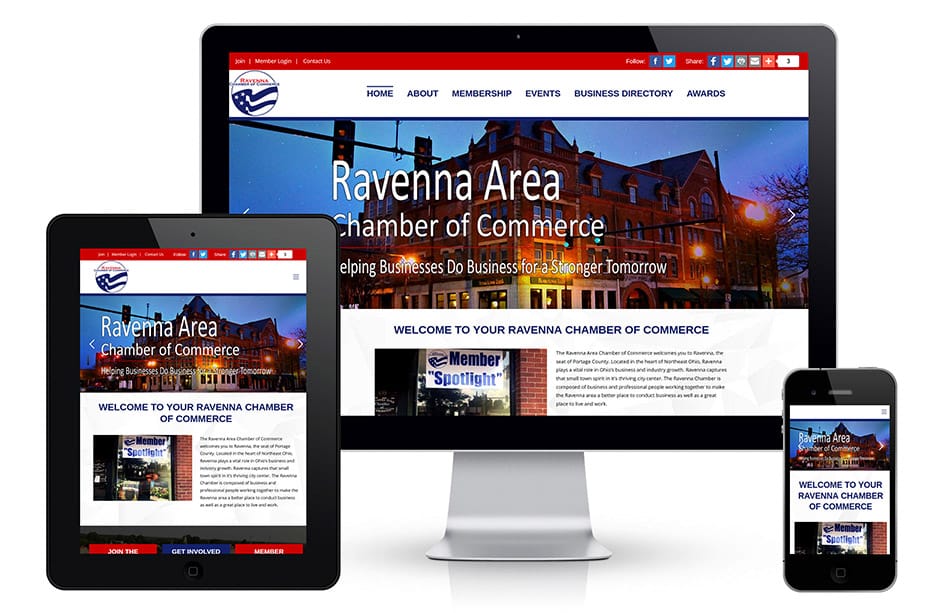 The Ravenna Chamber of Commerce was referred to us by our friends at Family and Community Services. When we met with Ravenna Chamber, we were greeted with a warm welcome and an inspiring challenge to build a new website that outshines the capabilities and performance of other well-known Chamber of Commerce website platforms without the monthly fees or expensive design setup fees. Our team quickly began working on a plan.
The Ravenna Chamber of Commerce wanted a chamber calendar of events, a calendar of events where members could post community events on their own, an event registration system where you can signup or purchase tickets to an event, a member area where the members could login and change their own listings, a business directory where you can sort and filter by business type, an active member and inactive member status, a system where members can pay their yearly membership dues, a sponsors area, and awards nomination area, a members signup form, a newsletter signup form that links to their constant contact account all built within an easy to update content management system where they could update the website themselves and have the website be fully responsive with quick load times and SEO Optimized.
The 2017 website release of Ravenna Chamber of Commerce is packed full rich features that are easy for the front end user to navigate and the back end administrator edit. We built the website under the cost of the setup fee for the Chamber website platform without the monthly fees. This project was a huge success. It's rather amazing to see our clients faces light up with excitement and their hearts filled with a new found energy from the work that we produce. That feeling is worth more to us than anything. It's what we strive for with every project and interaction we have with our clients.
After launching the project, we decided that we made such great friends with everyone we worked with that we decided to join and support the Ravenna Chamber of Commerce. We fully support their efforts in "helping businesses do business for a stronger tomorrow".
Here are some of the main features of this Ravenna website design project:
Extended Graphic Design that Utilizes the Latest in Design
Responsive Mobile Friendly Website Design (Tablet, Mobile, PC)
Fully Integrated Search Engine Optimization (SEO) / Analytics / Monitoring
Integrated Constant Contact Newsletter Signup Functionality
Custom Developed Business Directory Page with Filtering
Custom Developed Supporters and Accreditation Carousel
Events Calendar with Automatic Posting to Homepage and member events posting
Events Registration and Payment System
Membership Signup and Dues Payment System
Social Sharing
Fast Website Load Times
Website Security and Monitoring
Website Maintenance Program
If you are looking for a website design company to build your local area Chamber of Commerce website, contact Pennsylvania Web Technologies.