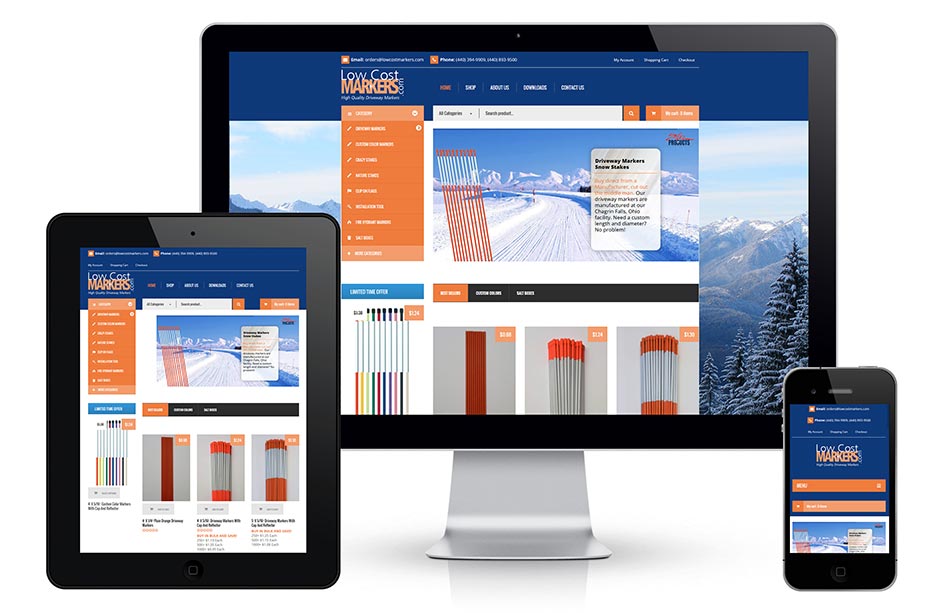 Pennsylvania Web Technologies has had the privilege of being chosen as the Pittsburgh website designers of choice for Low Cost Markers since 2005. This is our 3rd eCommerce website redesign we have had the honor of developing for the Chagrin Falls, Ohio Driveway Marker Manufacturer since 2005. Low Cost Markers is the leading manufacturer of Driveway Markers in the United States.
The new website was set to express a few very important messages; their customer service is unmatched in their industry, your orders will ship very fast, they guarantee the lowest prices and they have large volume discounts available. Additionally, they wanted a friendly yet professional design that was easy to navigate and offered a simple order process for fast checkouts. If you are a Landscaping or Plowing Services company, chances are you are already a customer. If you are not, we highly recommend that you contact them today.
They offer high quality driveway markers in many different sizes and widths, in ten highly visible colors, and with high quality glass particle infused reflectors (available in four unique and highly visible colors). Their markers are specially designed to withstand heavy wind, rain, snow and ice, and while maintaining their high quality.
The 2015 website release of Low Cost Markers is a business to business eCommerce website that is easy to navigate, packed full of information yet straight to the point. Here are some of the main features of the website:
Extended Graphic Design that utilizes white space
Responsive Mobile Friendly Website Design (Tablet, Mobile, PC)
Fully Integrated eCommerce shop, SSL, Payment Gateway, 1 step checkout, and Shipping Calculations
Search Engine Optimization / Analytics / Monitoring
Contact Forms with Database Stored Entries
Fast Website Load Times
Website Security
If you are looking for Pittsburgh website designers to take your website to the next level, contact Pennsylvania Web Technologies.